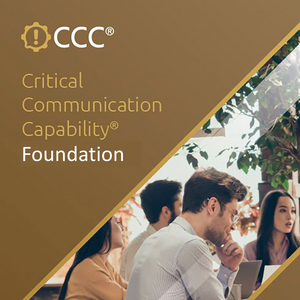 The purpose of Critical Communication Capability®  (CCC) Foundation course is to provide business and IT professionals with a shared approach, a common language and best practice guidance for understanding and improving their capability to handle critical situation communications effectively. 
Upon completion of the course, candidates may sit the optional 60-minute, 40-question, multiple-choice CCC® Foundation examination leading to the CCC® Foundation Certificate. A score of 26 of 40 (65%) or better is required to pass.
The target audience for this course is business and IT leadership teams and individuals who contribute to critical communication.
The course has no specific prerequisites.
Download the course overview here.
View the 90-second course overview here.
View the 15-minute CCC® overview video here.
Learn more...

This course consists of 14 contact hours of study, exclusive of examination preparation (including review of sample examinations). It is available as self-directed learning (video learning, eLearning, hardcopy course book or digital courseware (protected PDF), with optional online exam with remote proctor) or as a traditional classroom or virtual instructor-led training delivery. The course can typically be completed over two days, with the examination at the end of the second day. 
At the end of this course, you should be able to: 
Describe why critical communication capability is needed
Describe the Critical Communication Capability® framework, along with its key principles, concepts and models
Cite actions needed to create/update current critical communications plans, strategies and processes, e.g., infrastructure security
Identify key communications stakeholders for critical incidents
List ways to close critical communications capability gaps
Describe ways to improve social media channel capabilities
Describe critical communication preparedness resource needs
Course Outline 
Module 1: The Rationale for Developing Critical Communication Capability
Module 2: The Critical Communication Capability® Model
Module 3: Key Results Areas Impacted by Critical Communication Capability 
Module 4: The Phases of Critical Communication
Module 5: The Resources Underpinning Critical Communication Capability
Module 6: Levers for Increasing Critical Communication Capability